Layman's Introduction of Single Photon Emitters in Hexagonal Boron Nitride
Flying optical quantum bits, or qubits, play a crucial role in passing quantum information between different components of quantum computing and communication devices. One of the most important sources of optical qubits consists of single photon emitters (SPEs) in solid state materials. Recently, SPEs in two dimensional materials such as hexagonal boron nitride (hBN) have garnered significant attention. However, the exact relationship between the atomic structure of the defect centres and their photophysical characteristics is still largely missing. Using advanced first principles calculations, we elucidate the photophysical characteristics of six promising defect centres in hBN that can be intentionally created in experiments. We discuss the implications of our results on defect identification and fabrication, emission wavelength and polarization, optical addressability, and radiative decay rates.

See Reference: J. Phys. Chem. C, 125, 21791 (2021)
DOI: https://doi.org/10.1021/acs.jpcc.1c07729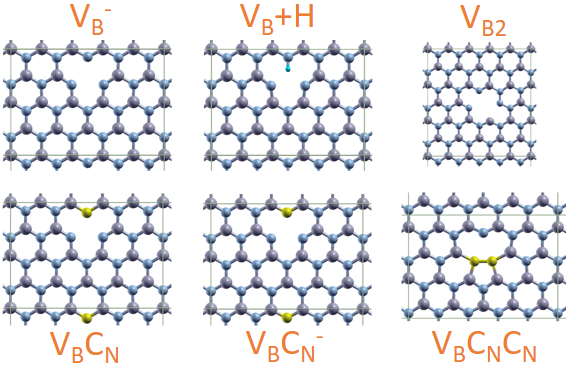 This figure depicts the periodic supercells of the six defect centres in the hexagonal boron nitride material investigated in our work, they are: VB−, VB+H, VB2, VBCN, VBCN− and VBCNCN.


Prediction of High Temperature Bose-Einstein Condensation of Excitons in Organic-2D Heterostructures
Featured in NUS News: https://www.science.nus.edu.sg/blog/category/research-news/ (06 December 2021)
A Bose-Einstein condensate is an extreme state of matter in which all particles have the same energy and are completely coordinated. The 2001 Nobel Prize in Physics was awarded for the realization of Bose-Einstein condensation. This phenomenal breakthrough was first achieved in a collection of rubidium atoms, at ultra-low temperatures of 20 nK.

We predict Bose-Einstein condensation (BEC) of charge transfer excitons can take place at ~50-100 K in systems of organic molecules on 2D semiconducting materials. This BEC temperature is orders of magnitude higher than that previously achieved in atoms. The narrow bandwidth of the molecular states also implies that the charge transfer excitons have very small momentum, thus favouring BEC.

Organic molecules such as transition metal phthalocyanines readily form ordered, self-assembled monolayers on 2D materials. The prediction of high temperature BEC of excitons in organic-2D material systems is expected to lead to more practical realizations of this exotic state of matter, and paves the way for the study of intriguing applications related to Bose-Einstein condensates.


Charge transfer excitons in organic-2D heterostructure: Schematic figure showing charge-transfer excitons in the ZnPc-MoS2 organic-2D heterostructure. The lowest energy charge transfer excitons in ZnPc/MoS2 heterostucture are predicted to undergo Bose-Einstein condensation at ~50-100K.
Reference: Ulman K; Quek SY, "Organic-2D Material Heterostructures: A Promising Platform for Exciton Condensation and Multiplication" NANO LETTERS 2021, 21, 8888−8894.
DOI: https://doi.org/10.1021/acs.nanolett.1c03435


Predictions of magnetic field response in 2D valleytronics materials
Featured in NUS News: https://www.science.nus.edu.sg/blog/category/research-news/ (08 September 2020)
We present a parameter-free approach to quantitatively predict the response of two-dimensional valleytronics materials to an external magnetic field. The predicted Landau levels match well to those deduced from recent optical experiments, and further demonstrate the importance of many-body interactions in determining the magnitude of the Zeeman effect in these systems.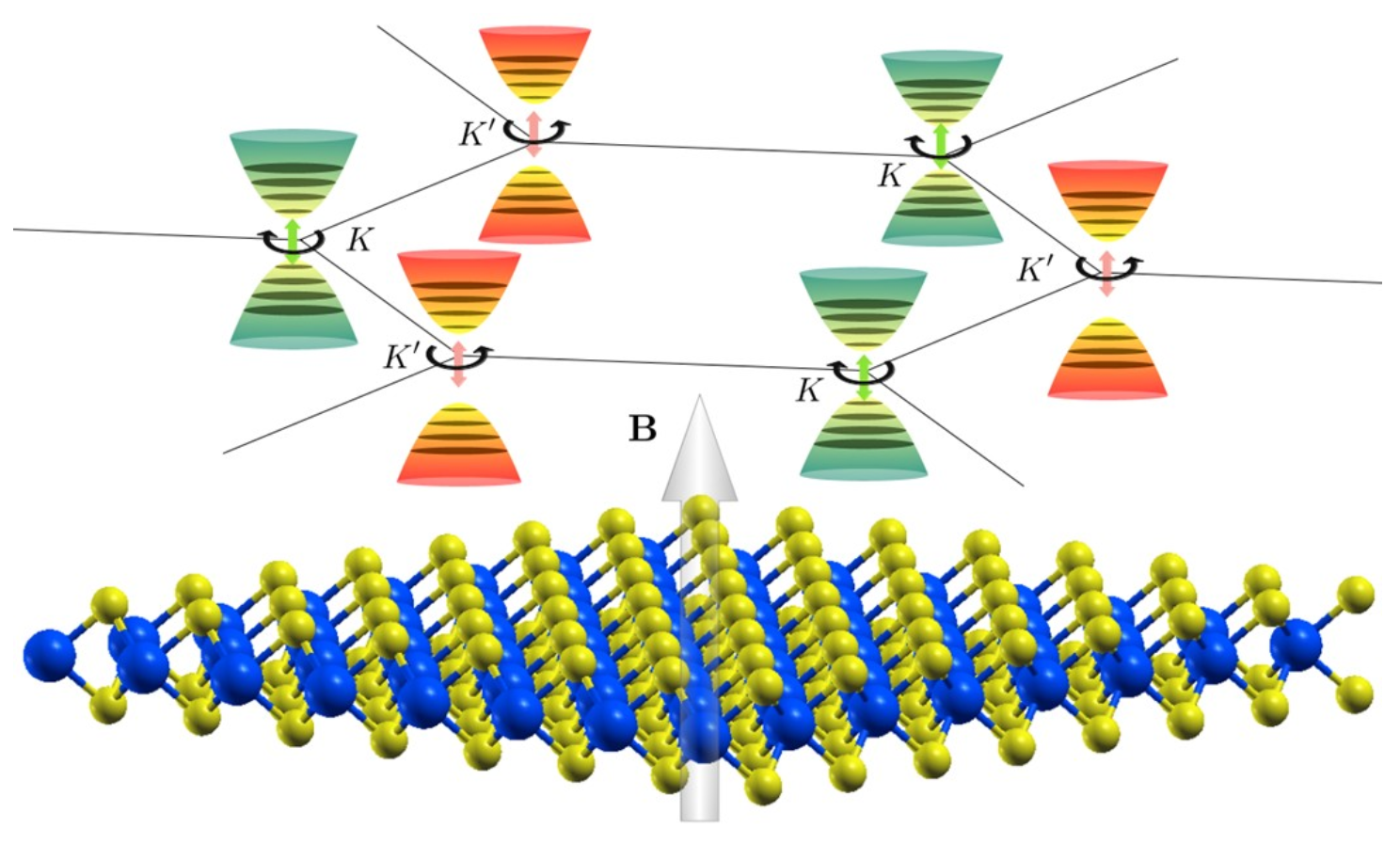 The figure shows the crystal structure of a 2D transition metal dichalcogenide (bottom) with the inequivalent valleys (K and K') representing the different momenta of electrons in the material (top). In the presence of a magnetic field (denoted by B), the energies of electronic states at the respective valleys are shifted by the Zeeman effect, and the states reorganise to form quantised Landau levels in each valley. Electronic states at each valley (orange and green) couple to light that is circularly polarised in one direction.


Stabilisation of charge density wave phase by interfacial interactions
Featured in NUS News: https://www.science.nus.edu.sg/blog/category/research-news/ (22 July 2020)
In some low-dimensional materials, electrons form coherent, periodic waves in the crystal lattice, resulting in wave-like distortions in the atomic lattice called a charge density wave (CDW) phase. The CDW phase can exhibit novel phenomena, and has a different electrical conductivity from the usual phase which can potentially lead to new advances in device applications.
The figure shows the distortion of the tantalum for 4 different structures when placed over the h-BN substrate leading to the CDW structures. Below these structures are the simulated FFT images.


Screening by 2D materials
Imagine wearing a wrist slap bracelet which can emit light or store your personal data. Organic-2D material hybrids present the next frontier of flexible electronic and optoelectronic devices. The interfacial energy-level alignment plays a major role in the operation of such devices. A key theme of our present research is to understand how electronic screening by 2D materials at these novel hybrid interfaces changes the energy-level alignment of adsorbed organic molecules, which determine the tunneling barriers faced by electron and hole carriers at the organic-2D material interface.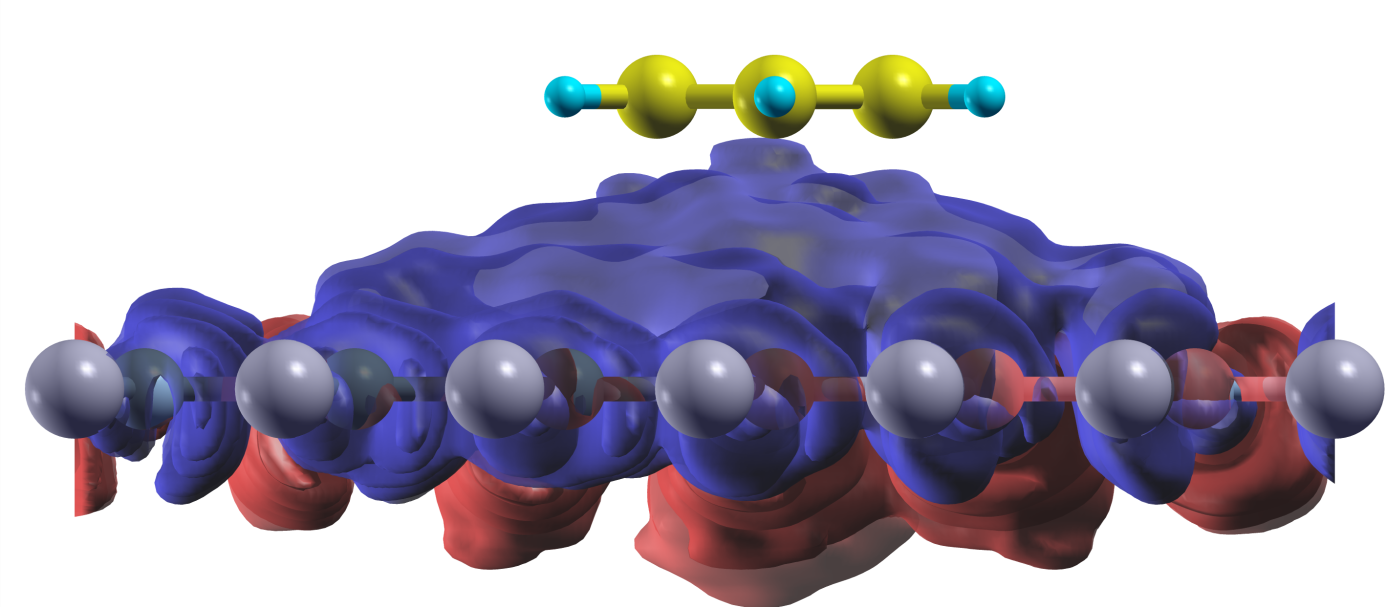 The figure shows the induced screening charge (blue: depletion of electron charge; red: accumulation of electron charge) due to a point electron charge perturbation located on the benzene molecule, which is adsorbed on a hexagonal boron nitride monolayer substrate.


Localized excitons in 2D materials for integrated quantum optics
Featured in NUS News: https://news.nus.edu.sg/research/infocus (22 July 2019)
We have unveiled the nature of point defects and localized excitons in tungsten diselenide (WSe2) single layers for novel integrated quantum optical applications.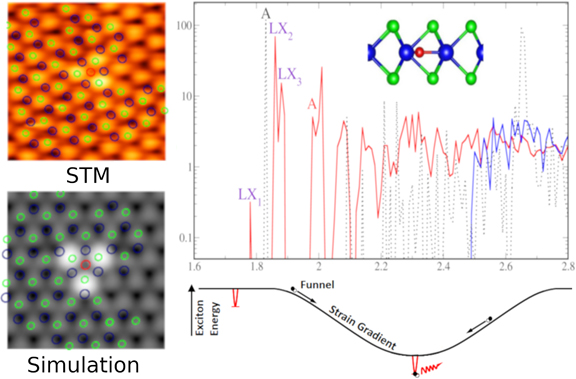 Figure shows experimentally observed Oins point defect STM image, in comparison with DFT simulated counterpart. The GW-BSE optical absorption spectrum together with labeled localized excitons (LXs) are displayed on the top right panel. A schematic of the effects of strain gradients is shown on the bottom right panel.


Tunneling Barriers at Large Interface Systems from Many-body Perturbation Theory: the XAF-GW method
Heterostructures composed of atomically thin two-dimensional materials, including graphene, transition metal dichalcogenides, hexagonal boron nitride and even organic molecule layers, have received much attention due to their tunable electronic and optical properties. For many of the electronic and optoelectronic applications of these heterostructures, it is important to quantify the energy (tunneling) barrier experienced by an electron or hole at the interface. However, quantifying these energy barriers is challenging both experimentally and theoretically.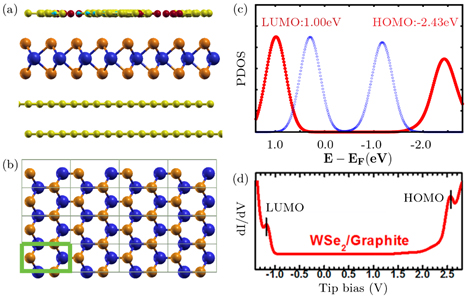 FIG. PTCDA on monolayer WSe2 supported on bilayer graphene. (a) Side view of atomic structure. (b) Top view showing WSe2 monolayer in one unit cell of the heterostructure. The green box indicates the sub-unit cell used for computing the chi matrix of WSe2. (c) Computed projected density of states (PDOS) for PTCDA on WSe2/bilayer graphene. Red: XAF-GW, Blue: DFT, (d) Experimental scanning tunneling spectroscopy (STS) spectrum for PTCDA on WSe2/Graphite from ACS Nano 10, 2476 (2016). The levels of the HOMO (highest occupied molecular level) and LUMO (lowest unoccupied molecular level) predicted using XAF-GW agree well with those measured in the STS spectrum.


Energy level alignment for molecular electronics
13 Mar 2018. NUS physicists have found that complex electron-electron interactions change the energy levels at molecule-metal interfaces, affecting the performance of molecular electronic devices.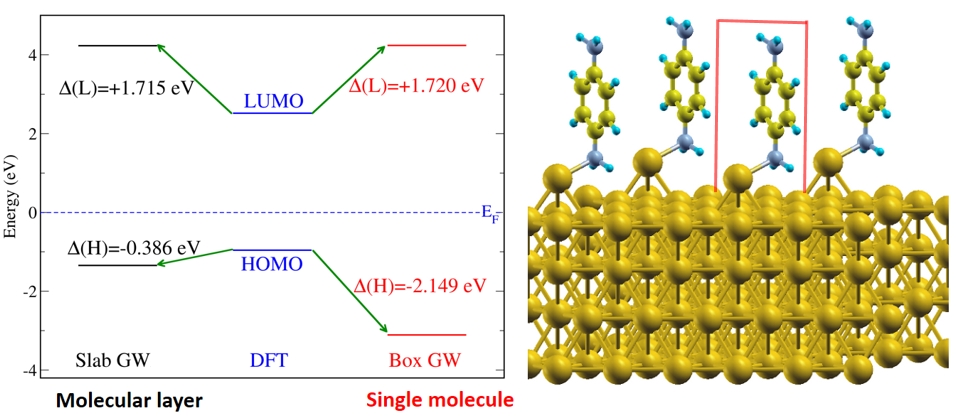 (Left) Figure shows the electron energy level alignment of benzene-diamine molecules on gold surface system (shown on the right). The energy levels are shown for a molecular layer (black) and for a single molecule (red). (Right) Illustration of the benzene-diamine molecules on gold surface.


A new spin on graphene electronics
18 May 2017. NUS physicists have discovered that controlling electron spin can lower contact resistance in graphene electronics for high performance devices.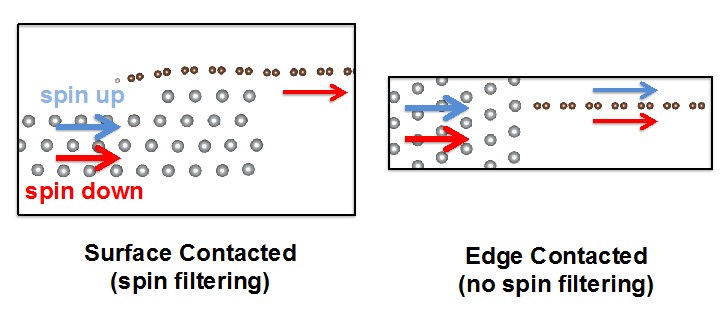 Figure shows the schematic for edge- and surface-contacted ferromagnetic metal-graphene interfaces with spin-up and spin-down current flows denoted by blue and red arrows, respectively.


Interlayer interactions and Electrically-Tunable Dirac Cone in Few-layer Black Phosphorous
Black Phosphorus is a recently isolated 2D material that, like graphene, consists of only one element. Black Phosphorus has attracted tremendous interest due to its very high carrier mobility that is as good as that in silicon. Interestingly, unlike many other 2D materials, the interlayer interactions are not of purely van der Waals type. We show, with our experimental colleagues, that the interlayer interactions in black phosphorus are substantially larger and of significant covalent nature.
See Reference: Nano letters 15, 3931 (2015)
We also predicted that the application of an external electric field can result in a tunable Dirac cone in few-layer black phosphorus. This prediction was later verified in experiments in this recent Science article.

See Reference: Scientific Reports 5, 11699 (2015).

Flexible electronics and optoelectronics from 2D materials
Transition metal dichalcogenides (TMDs) MX2 (M=Mo, W, etc.; X=S, Se, or Te;) are a class of layered structure materials that received enormous attention recently for potential promising applications. Like 2D graphene or boron-nitride, they can also be exfoliated into single or few layer films from bulk or synthesized bottom-up from chemical vapor deposition (CVD) or molecular beam epitaxy (MBE) methods. Unlike graphene or boron-nitride, 2D TMDs have semiconducting band gaps at about 1.0~2.0 eV, ideal for electronics and optoelectronics applications. Moreover, these ultra-thin semiconducting films are super-flexible and super-robust in mechanical elasticity. They are found to endure very large strain of 10-20%, allowing for possibilities of flexible device applications. Recently, in collaborating with experimentalists, we identify a unique band gap modulation behavior of CVD-grown 2D MoS2 monolayers across its grain boundaries (GBs); see the figure above. We attribute it to a superposition of strain field modulation near the GBs together with defect-induced band bending near the dislocation core of the GBs. These findings offer us knowledge about and insights into electronic properties of 2D TMD monolayers and paves the way for further engineering possibilities.
See Reference: Nature Communications 6:6298 (2015).


Contact Resistance in MoS2 transistors
Besides being of fundamental interest, our work also has applications in the realm of engineering. We study the Schottky barriers and contact resistances to different 2D materials. In this recent work, we work with our experimental collaborators to show that the insertion of a graphene interlayer significantly reduces the contact resistance in Nickel-MoS2 field effect transistors. 
See Reference: ACS Nano 9, 869 (2015)
More than skin-deep
6 Sep 2014. NUS researchers discovered that stronger surface bonds have non-trivial effects on the natural frequencies in 2D systems.
Few of us have gone through childhood without the unpleasant experience of our skin peeling off after an injury. In the world of materials science, the tiny atoms that make up a material generally experience significant grief when they lose a few of their neighbors through the creation of a surface. These surface atoms start to gravitate more strongly towards their remaining neighbors, sometimes resulting in beautiful atomic-scale rearrangements.
Image shows vibrations in 2 layered, 3 layered and 4 layered 2D MoS2. Molybdenum atoms (red spheres) and Sulphur atoms (blue spheres) are bonded together by strong bond within each layer, but adjacent layers interact weakly. The blue shading in the background indicates the surface region where intralayer bonds are strengthened. (Image credit: LUO Xin and QUEK Su Ying)
Raman Spectra in 2D materials
A photon incident on a material can result in the emission or absorption of a phonon (collective lattice vibration) that changes the frequency of the emitted photon. This Raman process, the subject of the 1930 Nobel Prize in Physics, provides a non-destructive and sensitive tool to probe the phonon spectra in materials as well as provide a fingerprint to identify the material in question. We have ongoing collaborations with experimental groups to understand the Raman spectra in 2D materials.
Our theoretical findings, such as the importance of surface effects on the phonon frequencies have also been adopted by other groups.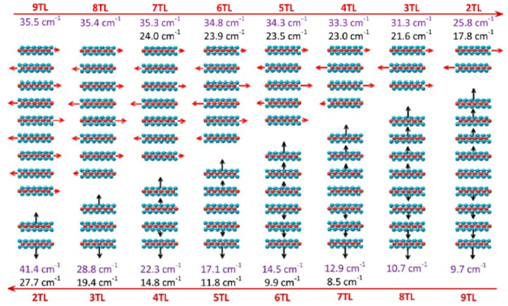 Above: Interlayer shear and breathing modes in 2D MoS2 (experiment versus theory) Nano Letters 13, 1007 (2013)